The Carolina Summer Music Festival 2012


A Musical Feast!


James A. Gray Auditorium
Old Salem Visitor Center
Saturday, August 25, 2012
7:30 p.m.

Tickets: $18 adults | $5 students

Whet your musical appetite as the CMSF celebrates food and drink through songs and theatrical chamber music.
Performers:
Program:
The Four Seasons of Futurist Cuisine / by Aaron Jay Kernis
La Revue de Cuisine / by Bohuslav Martinu
Selected songs including "Lime Jell-o Marshmellow Cottage Cheese Surprise" / by William Bolcom.
Read more about . . .
This Concert is Sponsored by John and Anna Harrison
on the Occasion of John's 75th birthday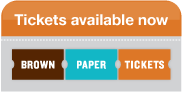 The Carolina Summer Music Festival gratefully acknowledges the generous financial support of its sponsors as well as the financial and professional support received from the following organizations:
Find Out More About Our Sponsors
Old Salem Museum and Gardens
Arts Council of Winston-Salem and Forsyth County
Piedmont Music Center | Salem Senior Housing, Inc.
Mary Duke Biddle Foundation | Kilpatrick Townsend